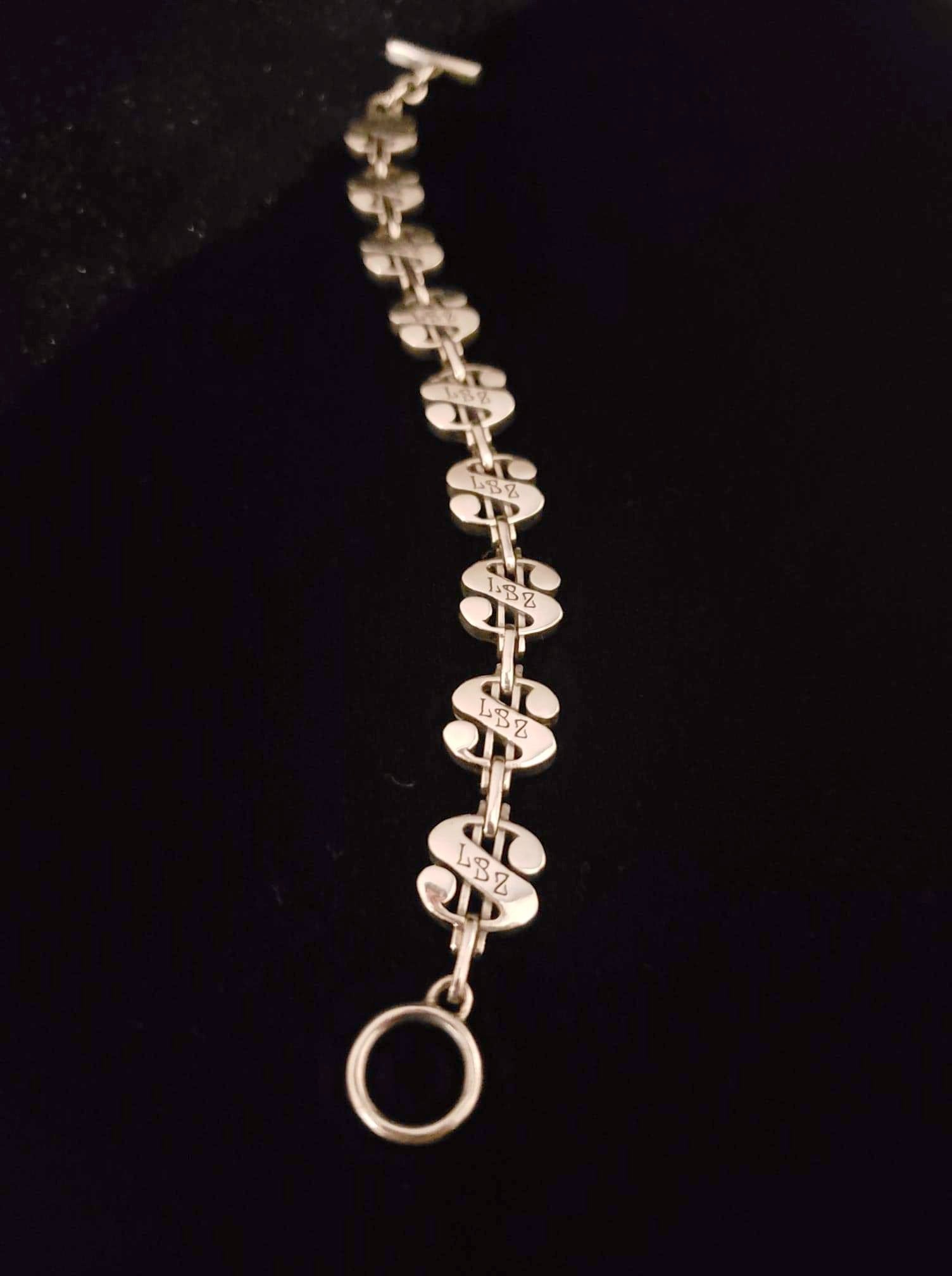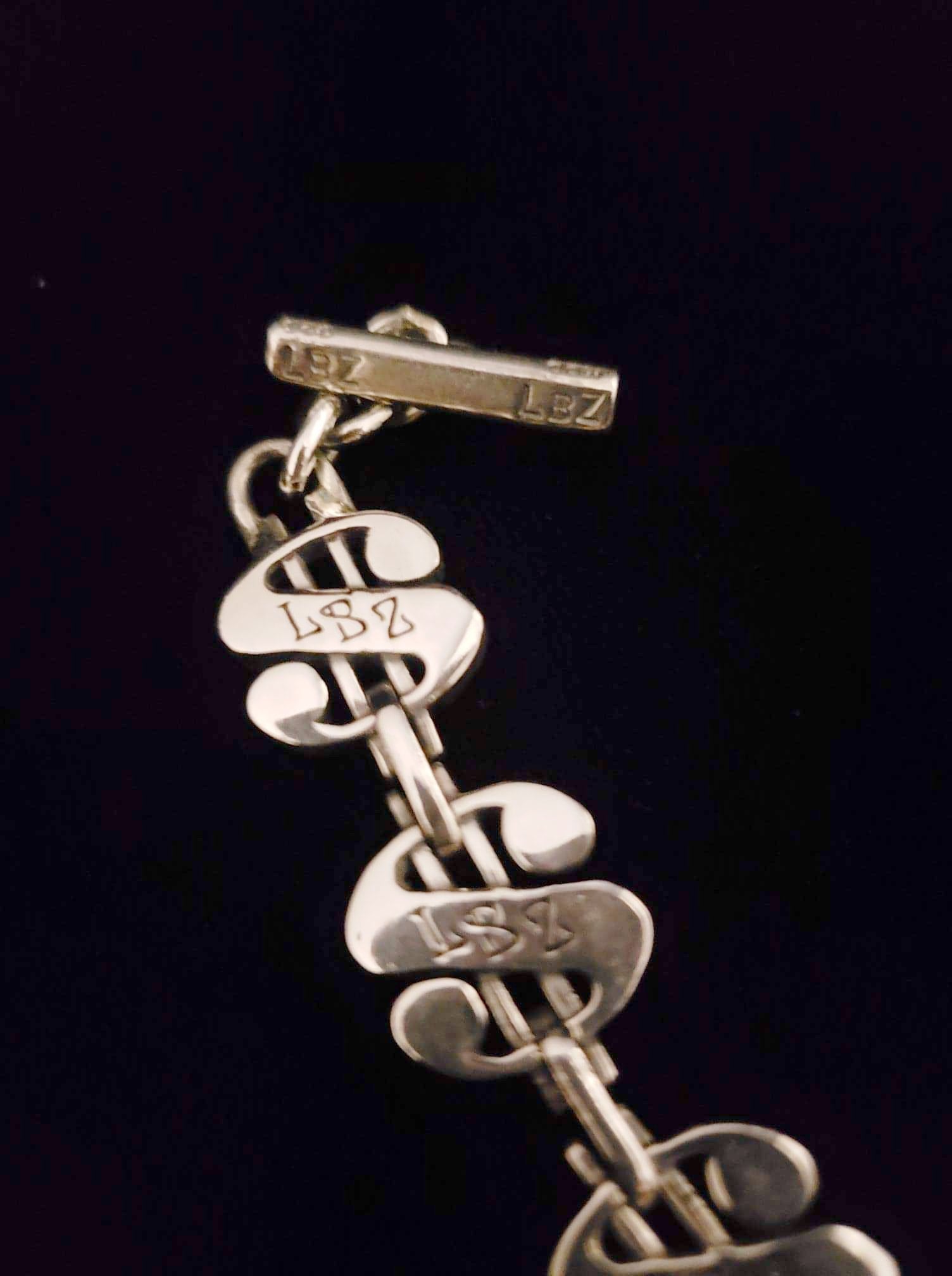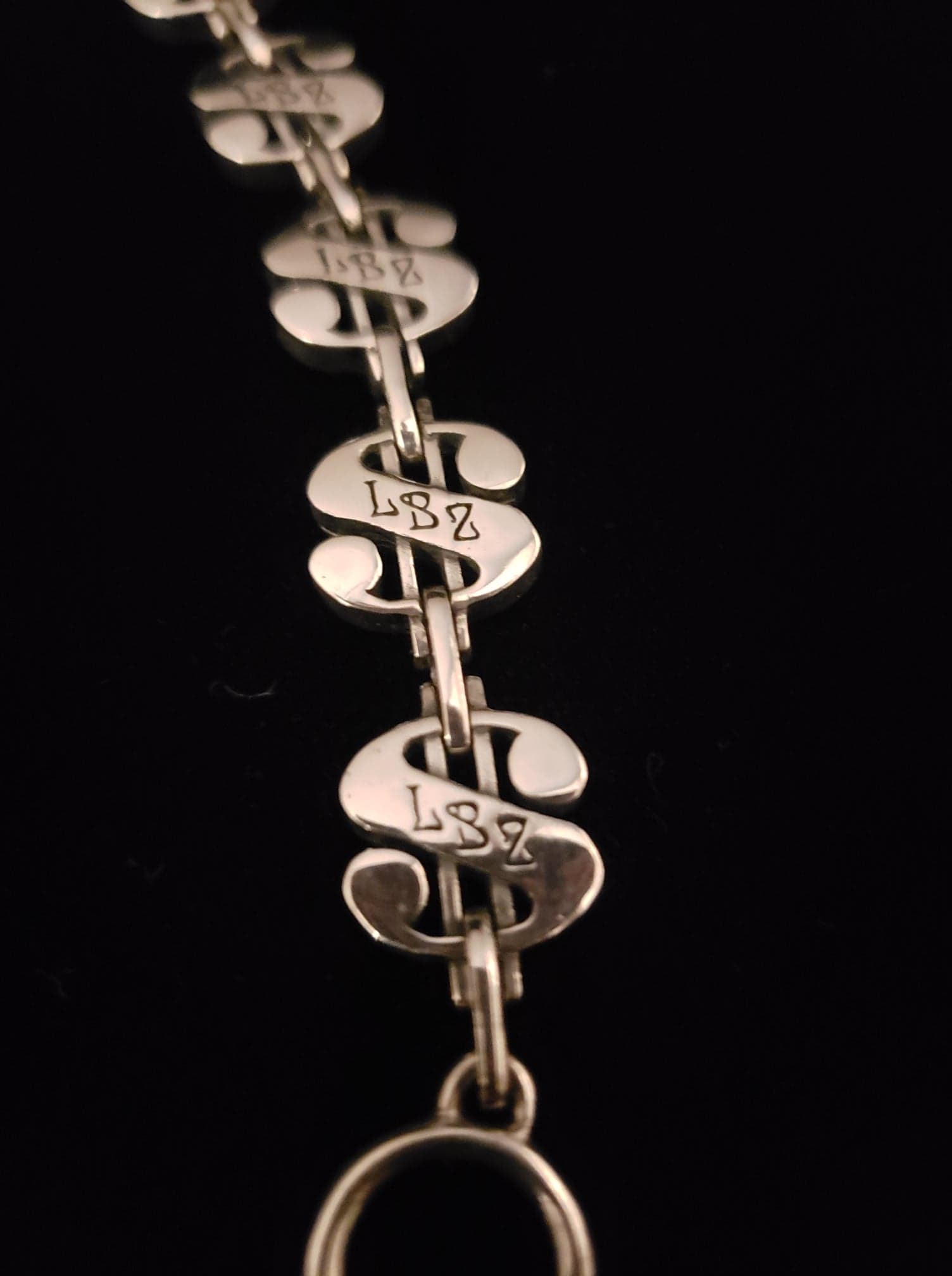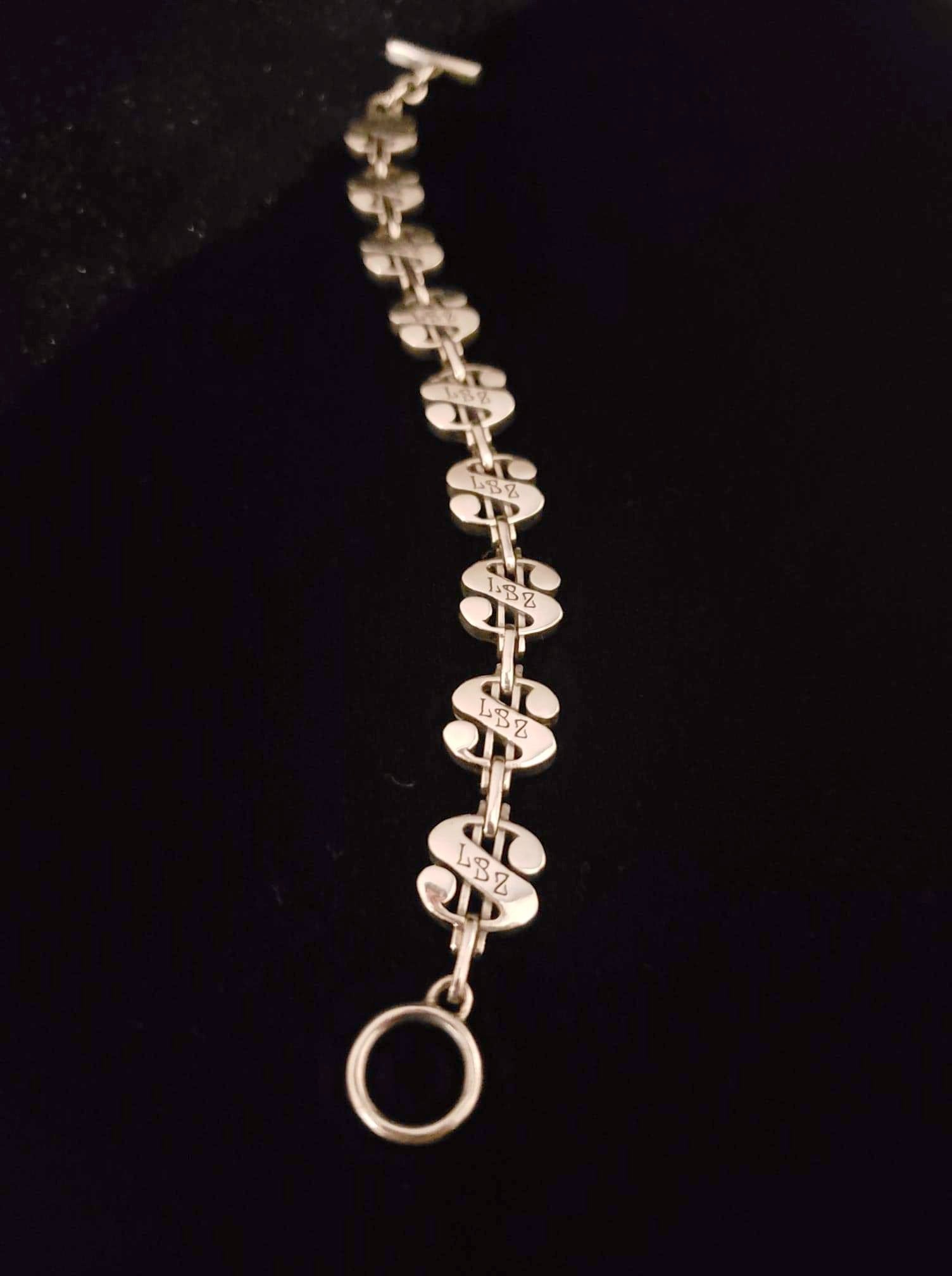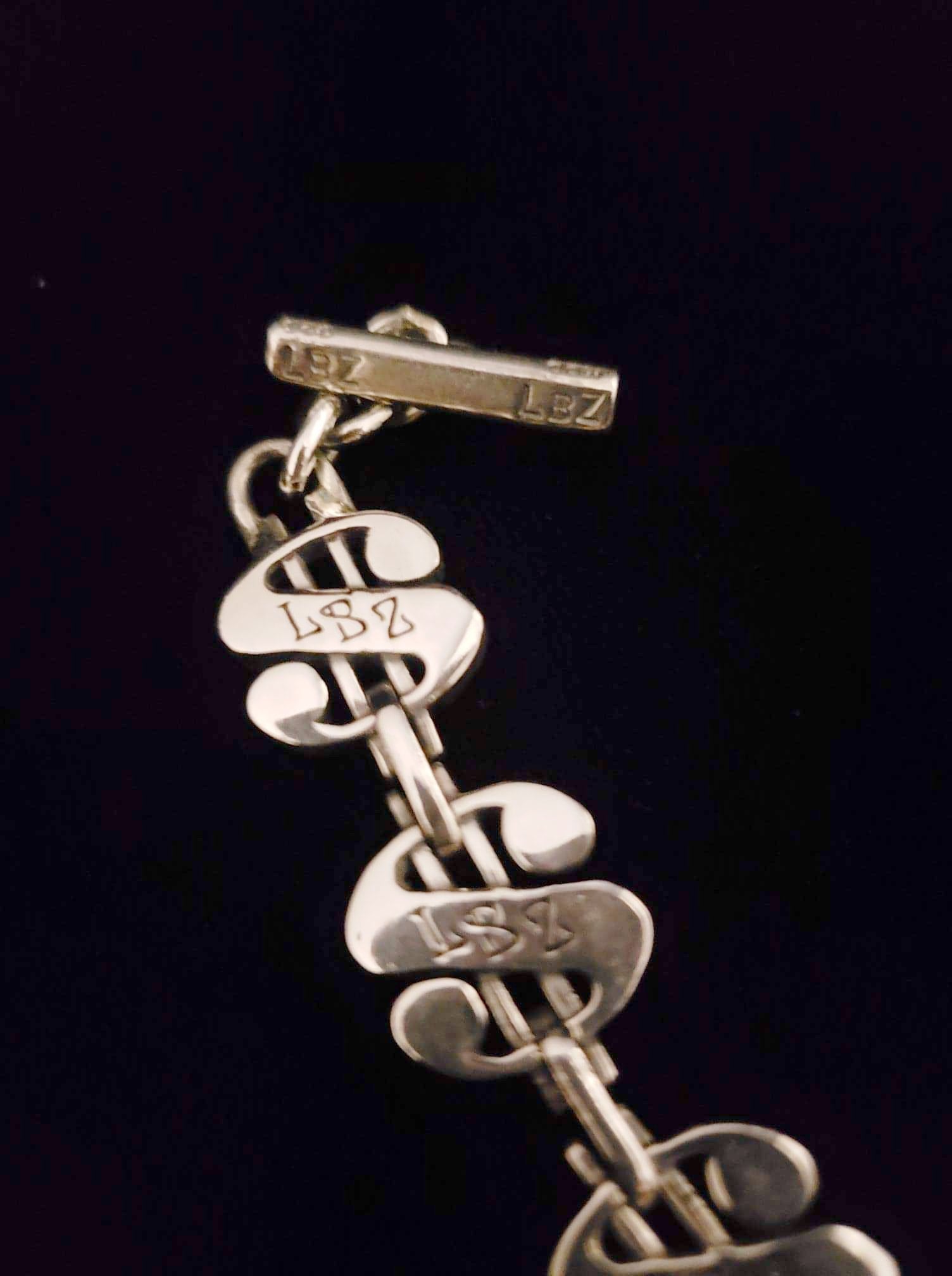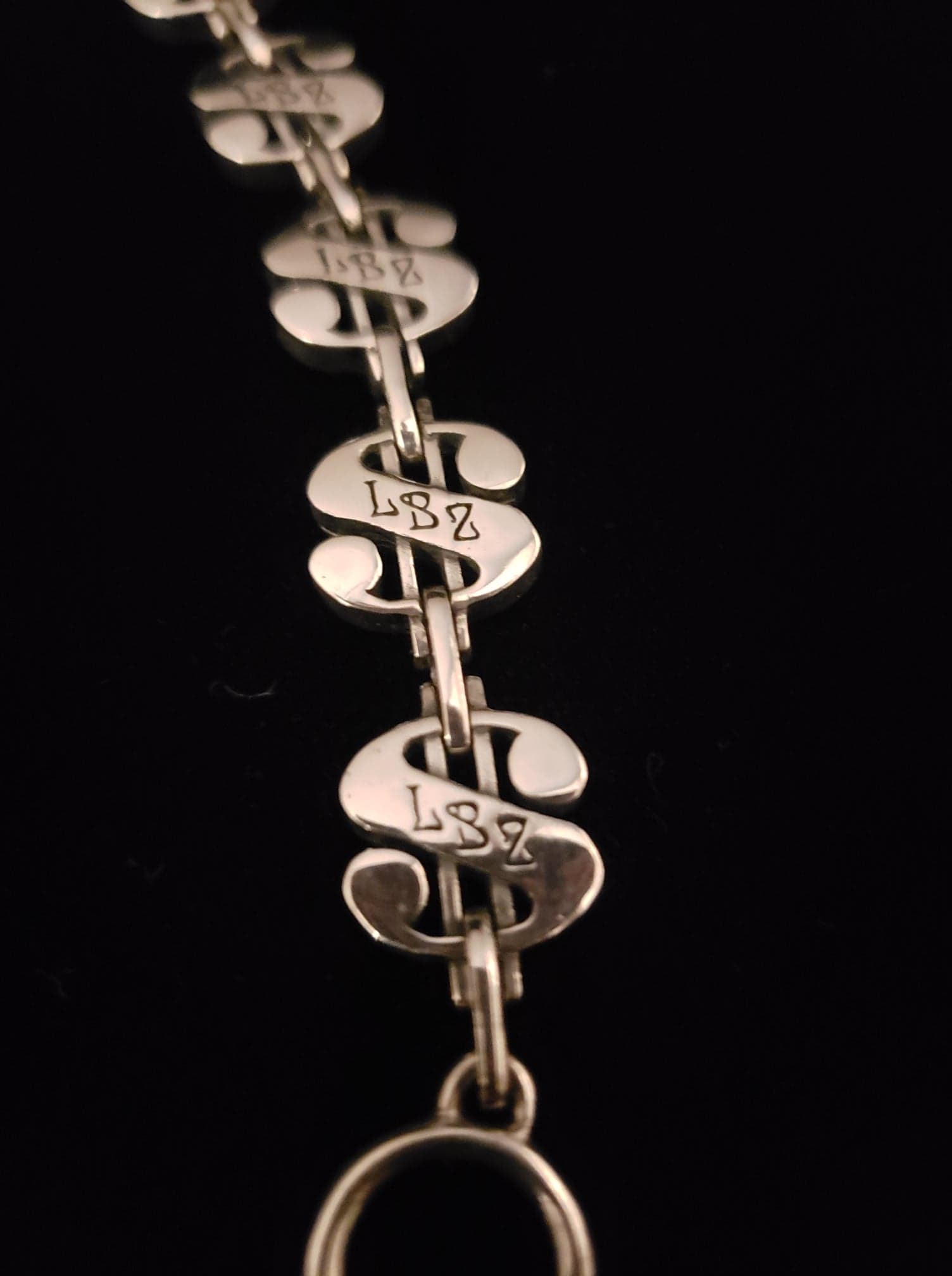 LBZ
LBZ "E Z MONEY" BRACELET
For the ladies with style and unlimited class, this bracelets ads bling & does it with sass. For every day wearing or a night on the town.... with this EZ Money bracelet your wearing the crown.... for a new sexy look, with an elegant twist, LBZ silvers bling is what you need on your wrist. 
High grade 925 sterling silver for luster and fashion appeal
7.25 inches in length
Beautifully cast Dollar Signs with amazing craftsmanship featuring engraved LBZ logo's with carbon based black finish to make the logo pop. 
Engineered to swivel on the links for flexibility and ultimate comfort, links are joined on the money posts for a clean flowing smooth line. 
For the ultimate comfort to a wrist, the inner portion of the bracelet is slightly contoured to match the natural curvature of your skin in that area. 
THIS PRODUCT IS IN LIMITED SUPPLY SO GET ONE BEFORE THEY ARE GONE.
| | | | | | | | | | | |
| --- | --- | --- | --- | --- | --- | --- | --- | --- | --- | --- |
| MEN'S TSHIRT SIZING | | | | | | | | | | |
| ALL STYLES | L | XL | XXL | | | | | | | |
| LENGTH | 30.5 | 31.5 | 32.5 | | | | | | | |
| CHEST  | 22 | 24 | 26 | | | | | | | |
| SLEEVE | 9 | 9.5 | 10 | | | | | | | |
| | | | | | | | | | | |
| FLAME JERSEY | M | L | XL | 2XL | 3XL | 4XL | | | | |
| LENGTH | 29 | 30 | 31 | 32 | 33 | 34 | | | | |
| CHEST | 38-40 | 41-43 | 44-46 | 47-49 | 50-53 | 54-57 | | | | |
| SLEEVE | 34 | 35 | 36.5 | 37.5 | 38.5 | 39.5 | | | | |
| | | | | | | | | | | |
| FLAME HOODIE | M | L | XL | 2XL | 3XL | 4XL | | | | |
| LENGTH | 29.5 | 30.5 | 31.5 | 32.5 | 33.5 | 34 | | | | |
| CHEST  | 23 | 24.5 | 26.5 | 27.5 | 28.5 | 30 | | | | |
| SLEEVE | 36.5 | 37.5 | 38.5 | 39.5 | 40.5 | 41 | | | | |
| | | | | | | | | | | |
| FREEDOM HOODIE | M | L | XL | 2XL | 3XL | | | | | |
| LENGTH | 29 | 30 | 31 | 32 | 33 | | | | | |
| CHEST | 22 | 24 | 26 | 27 | 28 | | | | | |
| SLEEVE | 35.5 | 36.5 | 37.5 | 38.5 | 39.5 | | | | | |
| | | | | | | | | | | |
| STREET PANTS | 29 | 30 | 31 | 33 | 35 | 36 | 37 | 39 | 40 | 41 |
| LENGTH VARIES | 29-30 | 29-30 | 30-31 | 31-32 | 31-32 | 31-32 | 32-33 | 32-34 | 32-34 | 32-34 |
| | | | | | | | | | | |
| LADIES TANK TOP SIZING | | | | | | | | | | |
| SHE B FREE & SHE B SPARKLY | S | M | L | | | | | | | |
| LENGTH | 26 3/8 | 27 | 27 5/8 | | | | | | | |
| BUST  | 14 | 15 | 16 | | | | | | | |
| | | | | | | | | | | |
| SHE'S SO VINE | S | M | L | | | | | | | |
| LENGTH | 27 | 27.5 | 28 | | | | | | | |
| BUST | 17 | 18 | 19 | | | | | | | |
| | | | | | | | | | | |
| SHE B LACY | ONE SIZE | | | | | | | | | |
| | | | | | | | | | | |
| MINI GLITTER TEE SIZING | | | | | | | | | | |
| ALL STYLES | S | M | L | XL | | | | | | |
| LENGTH | 22 1/2 | 24 1/2 | 25 3/4 | 27 | | | | | | |
| CHEST WIDTH | 17    | 18    | 19    | 20    | | | | | | |
| SLEEVE LENGTH | 6.5 | 7 | 7.5 | 8 | | | | | | |