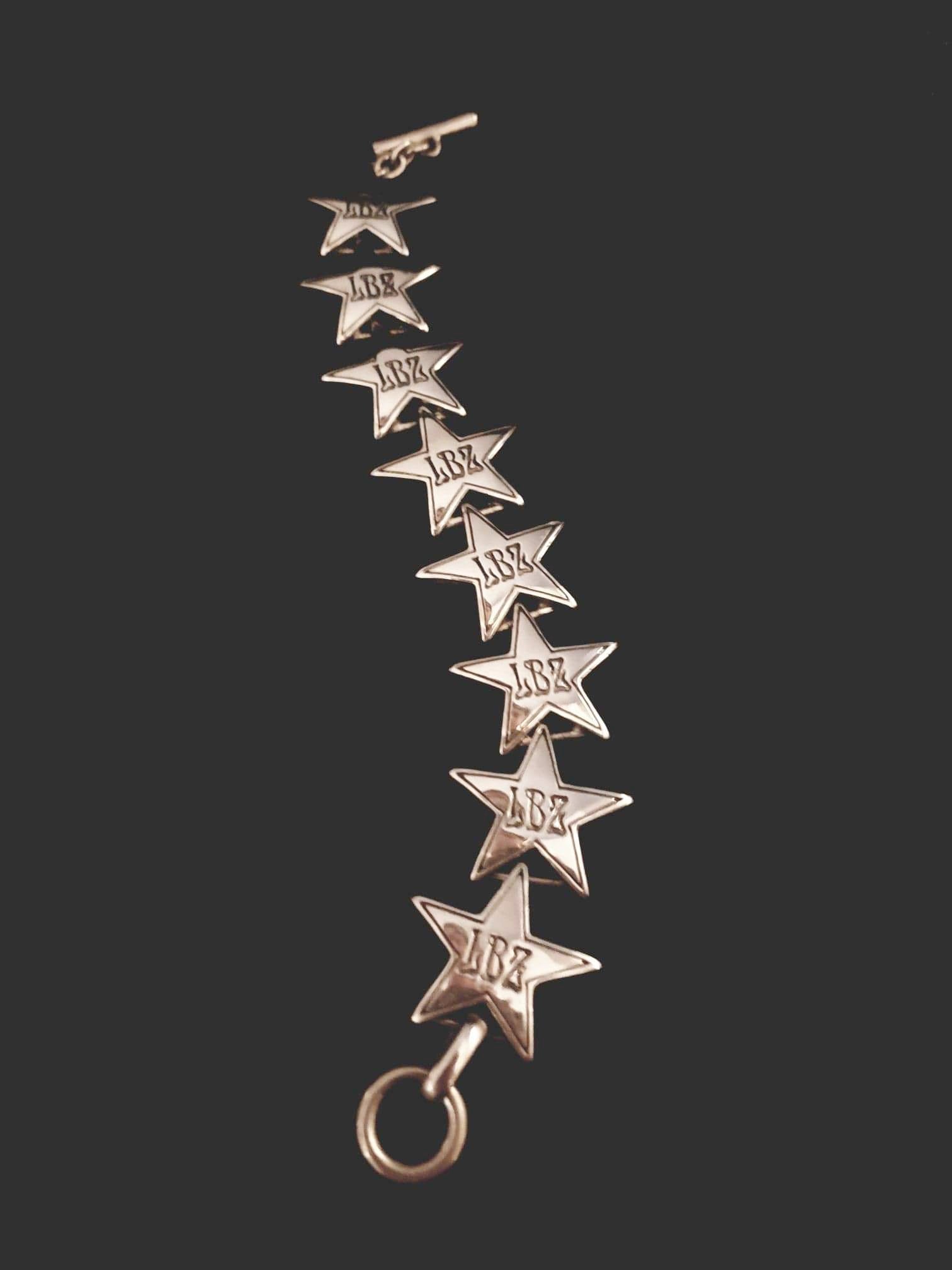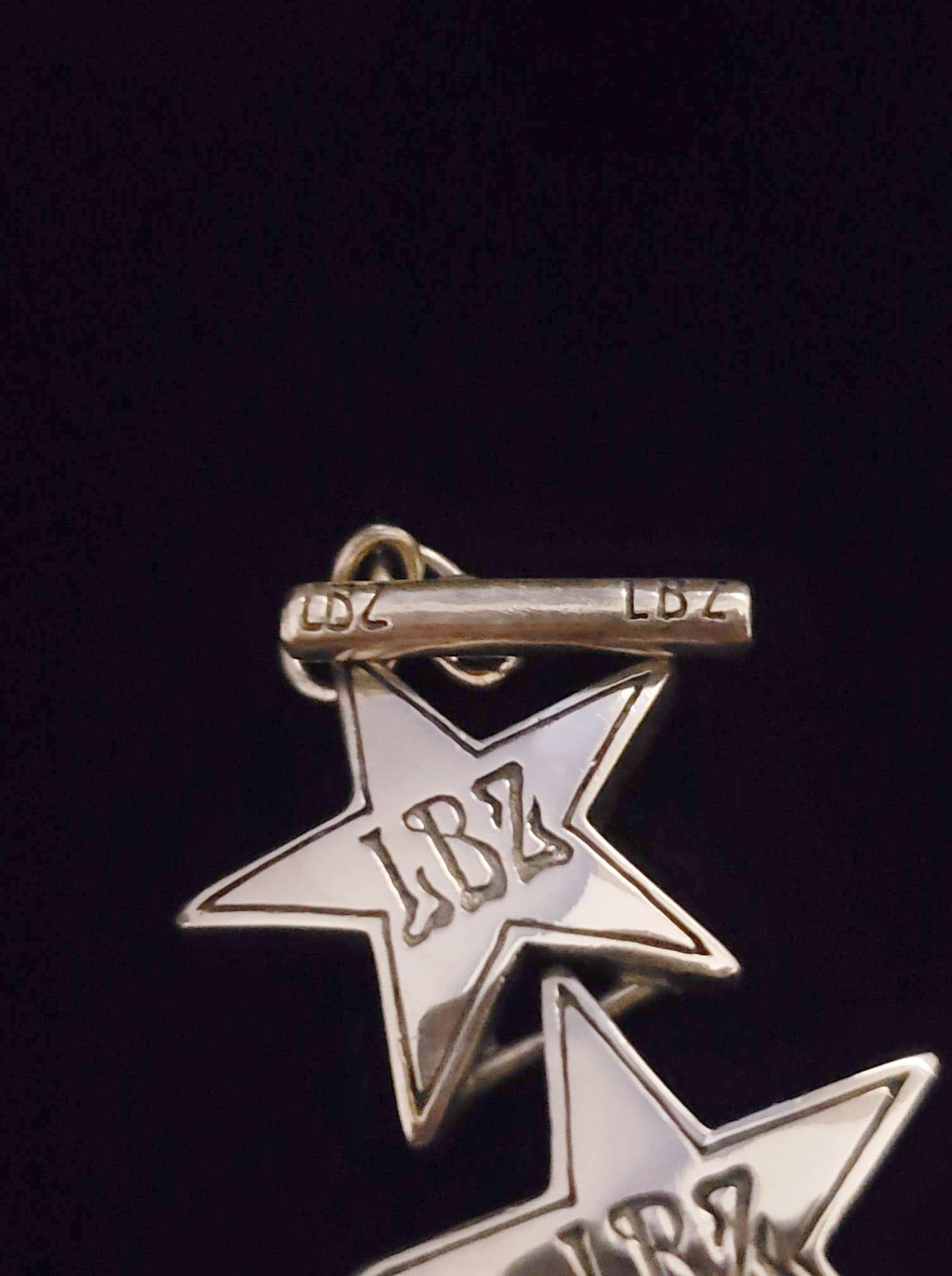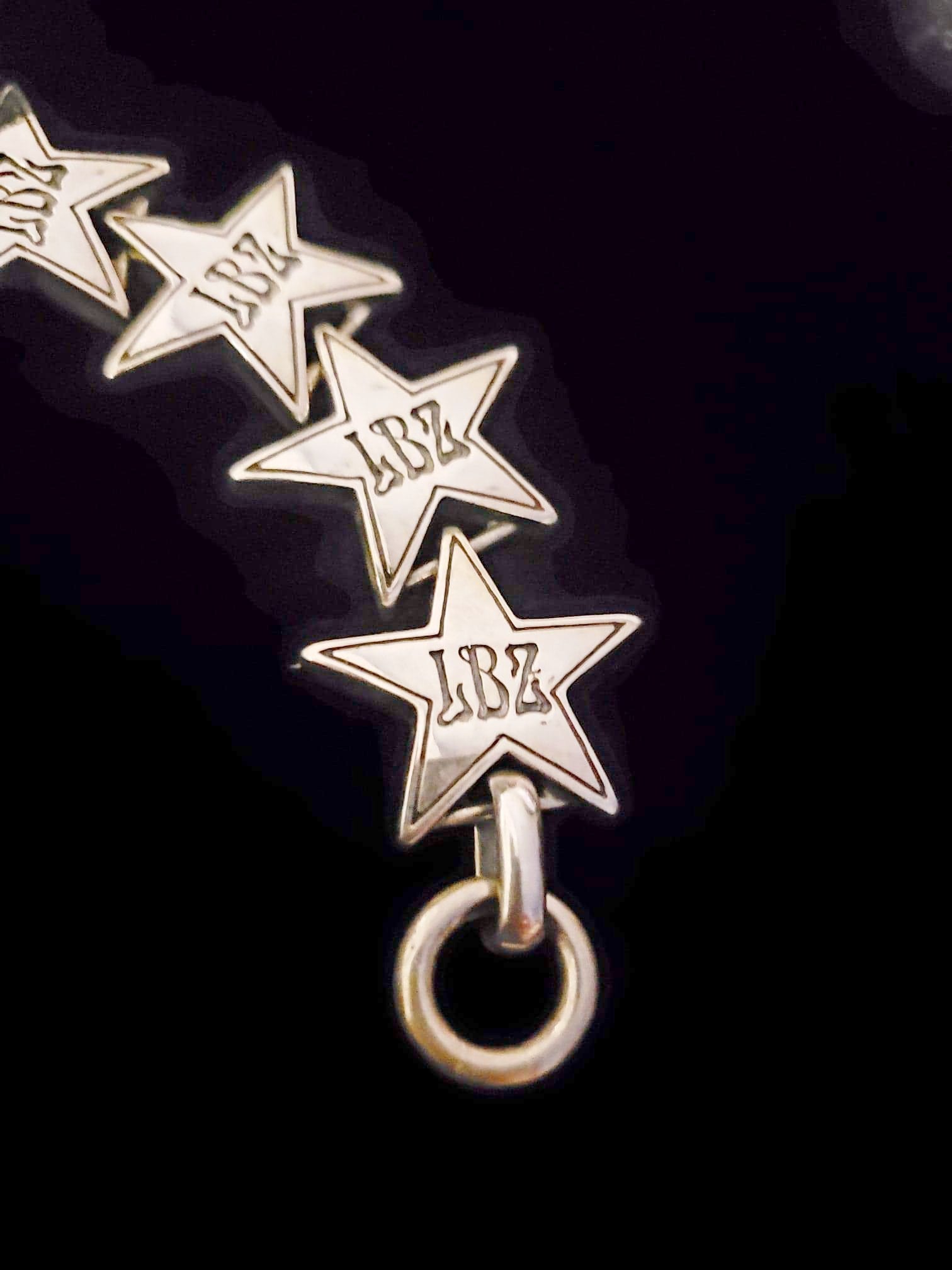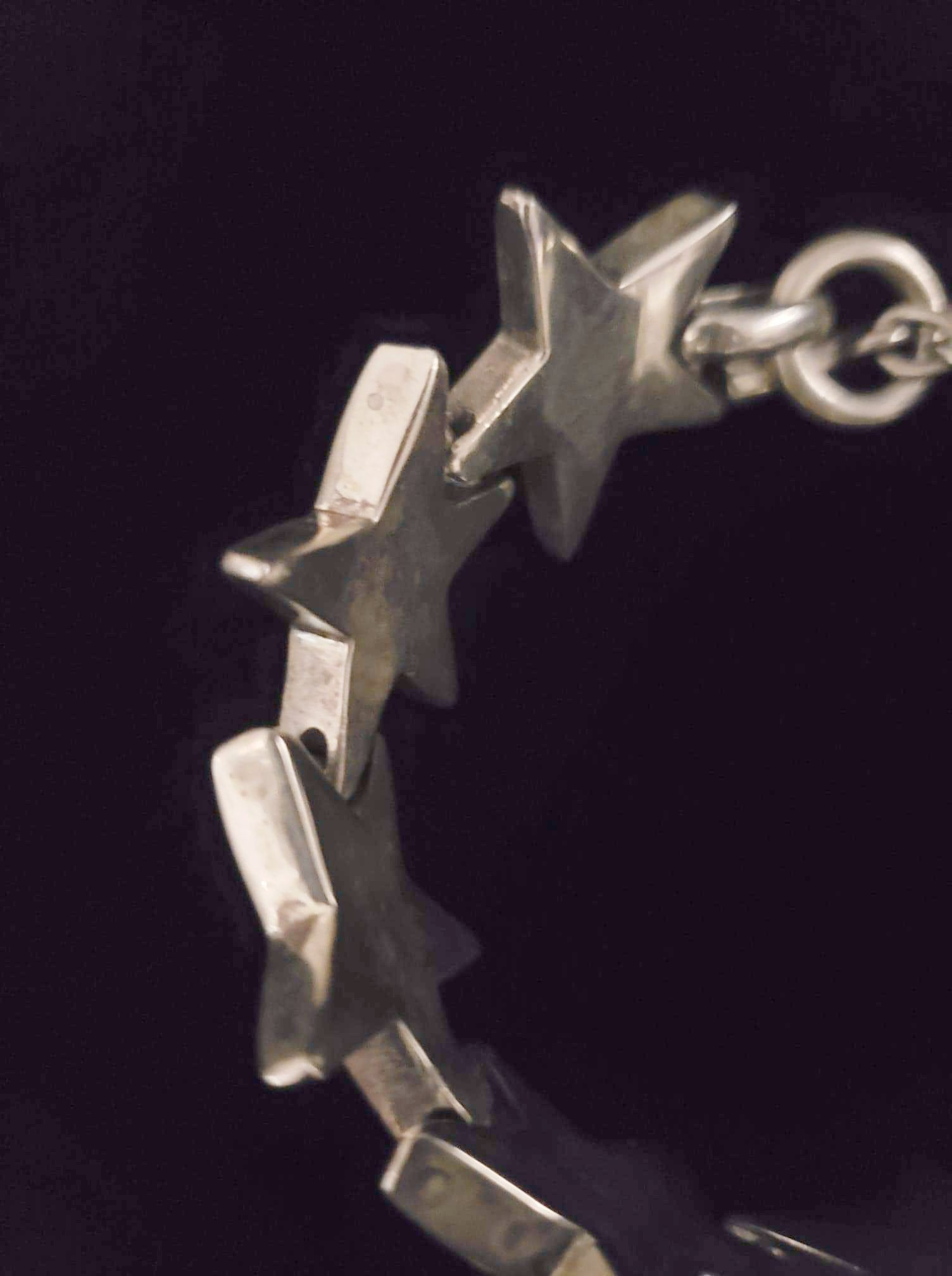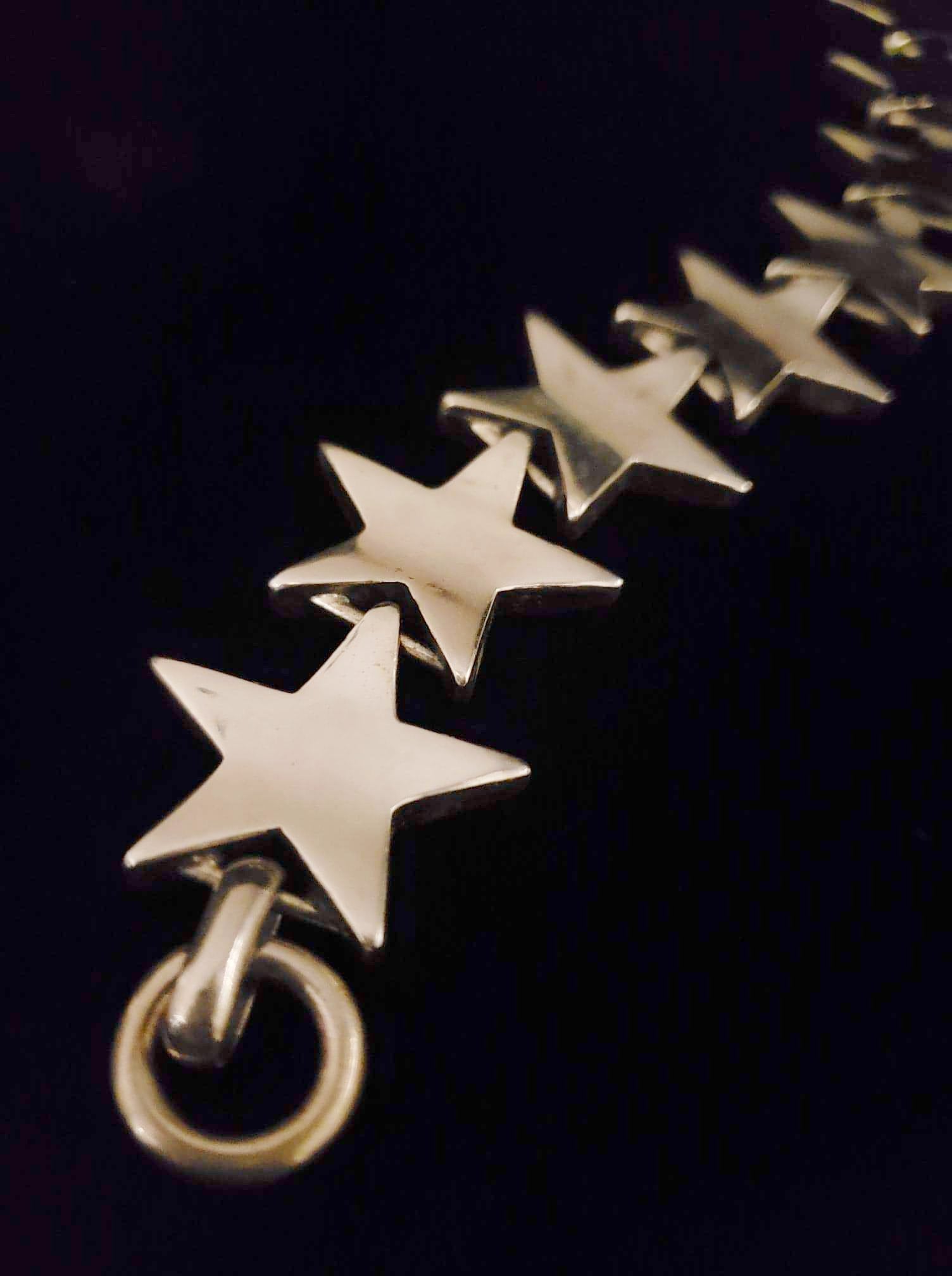 LBZ
LBZ "ROCK STAR" BRACELET
Its the ultimate Bracelet, worn by Rock Stars & Pimps,... for the Big Boss'n Baller,... not bracelet for wimps.... a solid 100 grams of sterling silver, this bad boy is no joke, and if your wear'n the Rock Star bracelet, we know your not broke...  It's made heavy for a man, definitely not for a pup, so if you think your a baller then you better step up... it's the Bentley of bracelets,  it's the best of the best, so step up like a Rock Star, and forget all the rest....
Truly a magnificent piece of jewelry design. A unique masterpiece in all aspects of detail and craftsmanship.
Its a heavy handed piece boasting over 100 grams of 925 rated sterling silver
Each Star has hand tooled features a deeply engraved outline with an engraved LBZ logo in the center
The logo's and outlines are filled with a black enameled finish for beautiful luster 
The Bracelet measures 8" in length and features a toggle closure with a stamped LBZ logo (special sizing is available upon request & additional charge may apply) 

The underside of each Star is sculptured with a slight curve to flow allong the wrist & hand for the ultimate in wearing comfort

THIS PRODUCT IS IN LIMITED SUPPLY SO GET ONE BEFORE THEY ARE GONE.
| | | | | | | | | | | |
| --- | --- | --- | --- | --- | --- | --- | --- | --- | --- | --- |
| MEN'S TSHIRT SIZING | | | | | | | | | | |
| ALL STYLES | L | XL | XXL | | | | | | | |
| LENGTH | 30.5 | 31.5 | 32.5 | | | | | | | |
| CHEST  | 22 | 24 | 26 | | | | | | | |
| SLEEVE | 9 | 9.5 | 10 | | | | | | | |
| | | | | | | | | | | |
| FLAME JERSEY | M | L | XL | 2XL | 3XL | 4XL | | | | |
| LENGTH | 29 | 30 | 31 | 32 | 33 | 34 | | | | |
| CHEST | 38-40 | 41-43 | 44-46 | 47-49 | 50-53 | 54-57 | | | | |
| SLEEVE | 34 | 35 | 36.5 | 37.5 | 38.5 | 39.5 | | | | |
| | | | | | | | | | | |
| FLAME HOODIE | M | L | XL | 2XL | 3XL | 4XL | | | | |
| LENGTH | 29.5 | 30.5 | 31.5 | 32.5 | 33.5 | 34 | | | | |
| CHEST  | 23 | 24.5 | 26.5 | 27.5 | 28.5 | 30 | | | | |
| SLEEVE | 36.5 | 37.5 | 38.5 | 39.5 | 40.5 | 41 | | | | |
| | | | | | | | | | | |
| FREEDOM HOODIE | M | L | XL | 2XL | 3XL | | | | | |
| LENGTH | 29 | 30 | 31 | 32 | 33 | | | | | |
| CHEST | 22 | 24 | 26 | 27 | 28 | | | | | |
| SLEEVE | 35.5 | 36.5 | 37.5 | 38.5 | 39.5 | | | | | |
| | | | | | | | | | | |
| STREET PANTS | 29 | 30 | 31 | 33 | 35 | 36 | 37 | 39 | 40 | 41 |
| LENGTH VARIES | 29-30 | 29-30 | 30-31 | 31-32 | 31-32 | 31-32 | 32-33 | 32-34 | 32-34 | 32-34 |
| | | | | | | | | | | |
| LADIES TANK TOP SIZING | | | | | | | | | | |
| SHE B FREE & SHE B SPARKLY | S | M | L | | | | | | | |
| LENGTH | 26 3/8 | 27 | 27 5/8 | | | | | | | |
| BUST  | 14 | 15 | 16 | | | | | | | |
| | | | | | | | | | | |
| SHE'S SO VINE | S | M | L | | | | | | | |
| LENGTH | 27 | 27.5 | 28 | | | | | | | |
| BUST | 17 | 18 | 19 | | | | | | | |
| | | | | | | | | | | |
| SHE B LACY | ONE SIZE | | | | | | | | | |
| | | | | | | | | | | |
| MINI GLITTER TEE SIZING | | | | | | | | | | |
| ALL STYLES | S | M | L | XL | | | | | | |
| LENGTH | 22 1/2 | 24 1/2 | 25 3/4 | 27 | | | | | | |
| CHEST WIDTH | 17    | 18    | 19    | 20    | | | | | | |
| SLEEVE LENGTH | 6.5 | 7 | 7.5 | 8 | | | | | | |