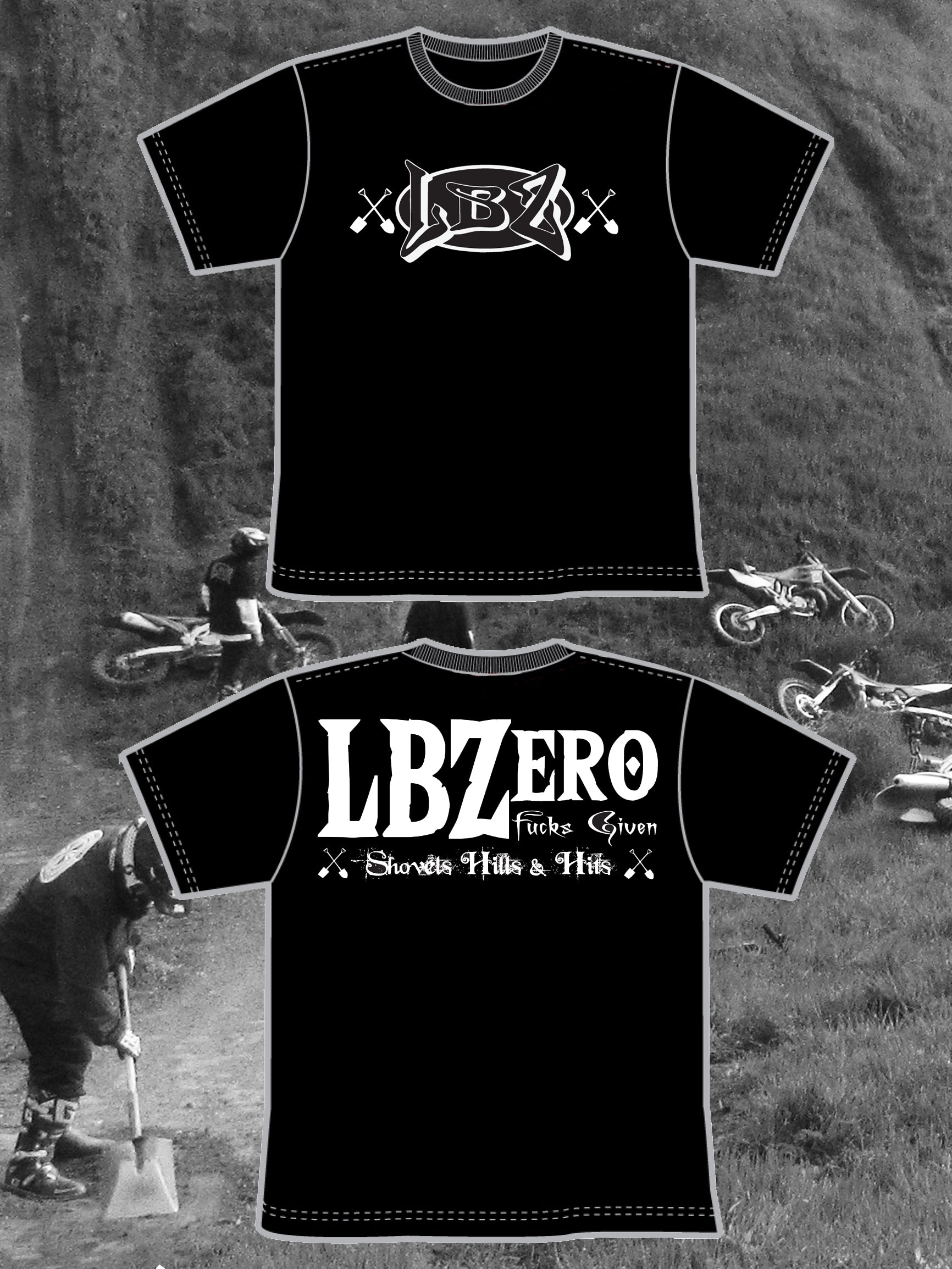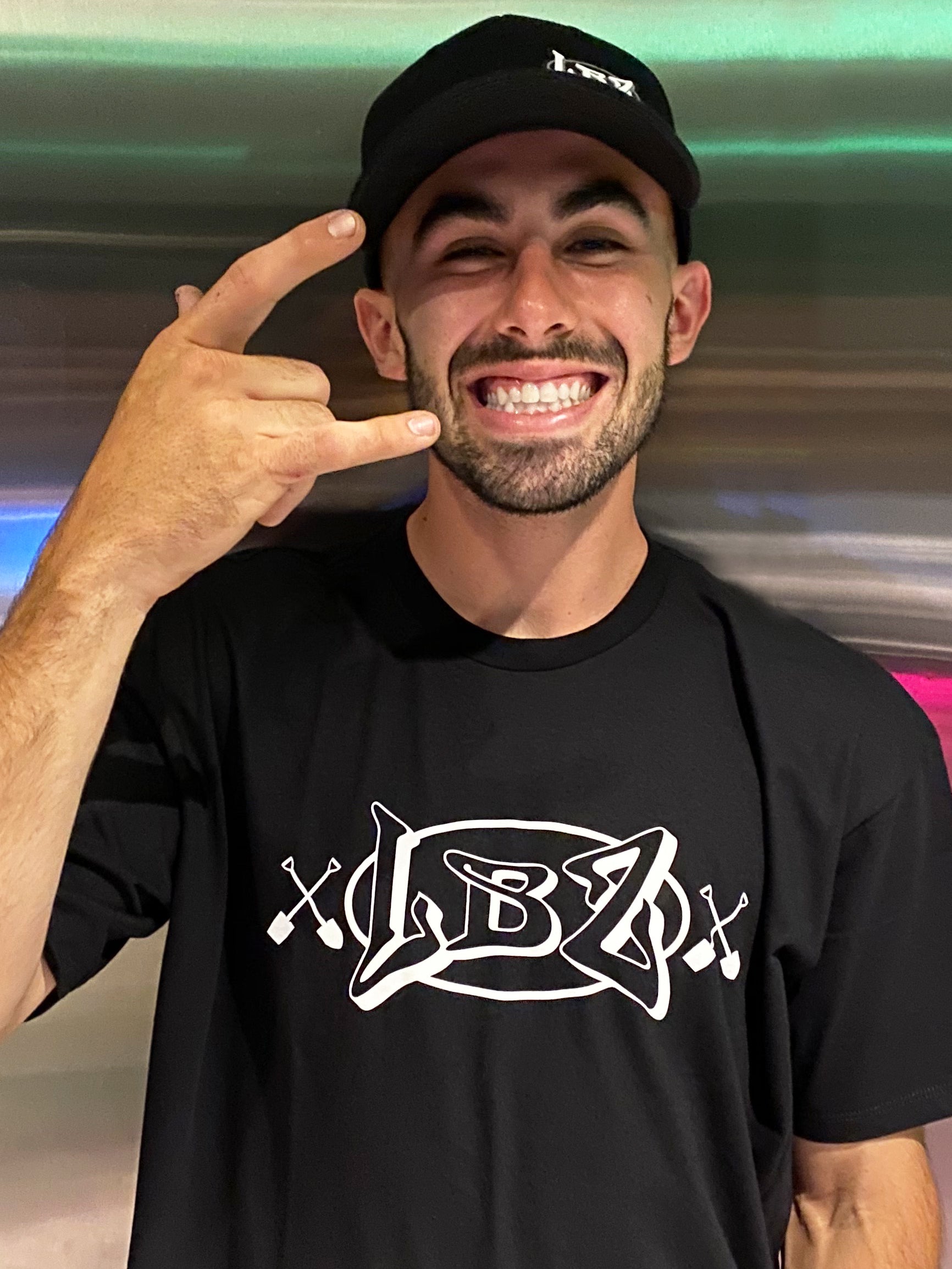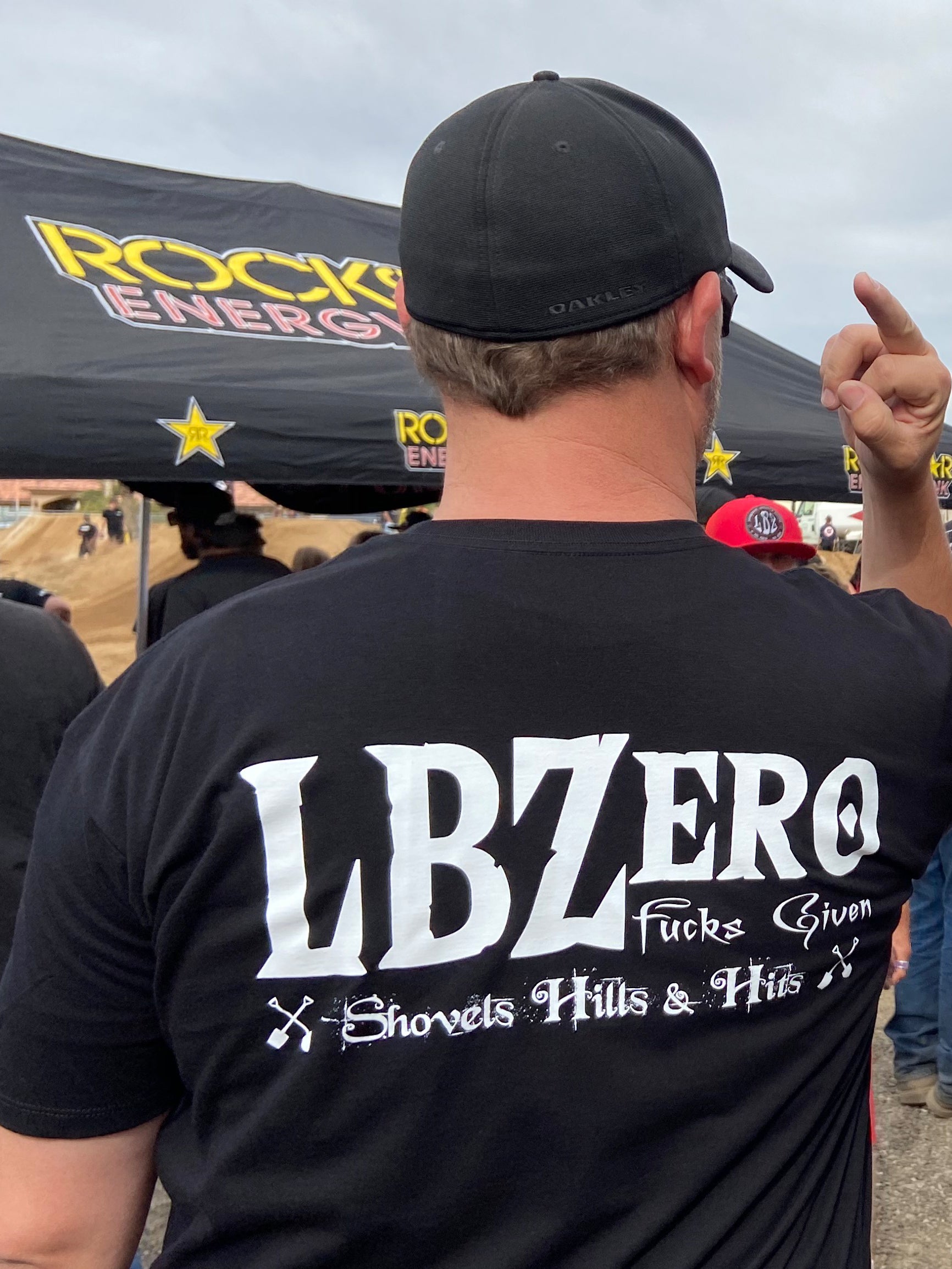 LBZ
"LBZero F@#KS GIVEN" T
We do what we want, wide open is the way, leavin all the shit talkers with nothin to say..... It's all about fun, "No Pain No Gain" is the motto, in the hills, ramps or streets, or pimpin ladies in the grotto.... LBZ is OG & that life we be livin, bustin big is what we do.... with ZERO F@#KS GIVEN.... 

This t-shirt features a vintage classic white ink on black design that demands attention. 
The ring spun 100% cotton construction creates the ultimate comfort & features a semi-fitted style for a great fit.
Featuring a large print on the back and our LBZ logo on the center front
The wash instructions and size label is screened into the neck for comfort with no annoying tags.
| | | | | | | | | | | |
| --- | --- | --- | --- | --- | --- | --- | --- | --- | --- | --- |
| MEN'S TSHIRT SIZING | | | | | | | | | | |
| ALL STYLES | L | XL | XXL | | | | | | | |
| LENGTH | 30.5 | 31.5 | 32.5 | | | | | | | |
| CHEST  | 22 | 24 | 26 | | | | | | | |
| SLEEVE | 9 | 9.5 | 10 | | | | | | | |
| | | | | | | | | | | |
| FLAME JERSEY | M | L | XL | 2XL | 3XL | 4XL | | | | |
| LENGTH | 29 | 30 | 31 | 32 | 33 | 34 | | | | |
| CHEST | 38-40 | 41-43 | 44-46 | 47-49 | 50-53 | 54-57 | | | | |
| SLEEVE | 34 | 35 | 36.5 | 37.5 | 38.5 | 39.5 | | | | |
| | | | | | | | | | | |
| FLAME HOODIE | M | L | XL | 2XL | 3XL | 4XL | | | | |
| LENGTH | 29.5 | 30.5 | 31.5 | 32.5 | 33.5 | 34 | | | | |
| CHEST  | 23 | 24.5 | 26.5 | 27.5 | 28.5 | 30 | | | | |
| SLEEVE | 36.5 | 37.5 | 38.5 | 39.5 | 40.5 | 41 | | | | |
| | | | | | | | | | | |
| FREEDOM HOODIE | M | L | XL | 2XL | 3XL | | | | | |
| LENGTH | 29 | 30 | 31 | 32 | 33 | | | | | |
| CHEST | 22 | 24 | 26 | 27 | 28 | | | | | |
| SLEEVE | 35.5 | 36.5 | 37.5 | 38.5 | 39.5 | | | | | |
| | | | | | | | | | | |
| STREET PANTS | 29 | 30 | 31 | 33 | 35 | 36 | 37 | 39 | 40 | 41 |
| LENGTH VARIES | 29-30 | 29-30 | 30-31 | 31-32 | 31-32 | 31-32 | 32-33 | 32-34 | 32-34 | 32-34 |
| | | | | | | | | | | |
| LADIES TANK TOP SIZING | | | | | | | | | | |
| SHE B FREE & SHE B SPARKLY | S | M | L | | | | | | | |
| LENGTH | 26 3/8 | 27 | 27 5/8 | | | | | | | |
| BUST  | 14 | 15 | 16 | | | | | | | |
| | | | | | | | | | | |
| SHE'S SO VINE | S | M | L | | | | | | | |
| LENGTH | 27 | 27.5 | 28 | | | | | | | |
| BUST | 17 | 18 | 19 | | | | | | | |
| | | | | | | | | | | |
| SHE B LACY | ONE SIZE | | | | | | | | | |
| | | | | | | | | | | |
| MINI GLITTER TEE SIZING | | | | | | | | | | |
| ALL STYLES | S | M | L | XL | | | | | | |
| LENGTH | 22 1/2 | 24 1/2 | 25 3/4 | 27 | | | | | | |
| CHEST WIDTH | 17    | 18    | 19    | 20    | | | | | | |
| SLEEVE LENGTH | 6.5 | 7 | 7.5 | 8 | | | | | | |